Penguinqwert's State of the Battledome: September 2014
This article was written on September 14, 2014. The Battledome may be subject to change after the date of publication. **An update was made to this article on September 16, 2014.
After a long delay, State of the Battledome is finally back. This month's article has been a long time coming. Originally I had hoped to have an article out in the spring, but spring would turn into summer and summer has now turned into fall. Finally, after three-quarters of a year, it is time to look back and summarize what has been a relatively quiet year for the Battledome community.
Considering the smaller gaps between previous State of the Battledome articles, nine months may seem like a lengthy time frame to summarize, but the Betadome has remained dormant for the entire year. The Neopets Team finally shed some light on the Betadome situation in Neopian Times editorials this summer, but the response was disappointing albeit expected. While the community continues to await some good news it has witnessed a handful of weapon releases, controversial cake slices, more community-operated 2-player tournaments, and a new Smugglers' Cove item. Let's now examine the past nine months in more detail.
Maractite Bomb - An Emotional Rollercoaster
Although the community would have appreciated promises of Betadome fixes this summer, one promise was made and fulfilled: a new Smugglers' Cove weapon. The August 8th editorial announced that a Smugglers' Cove item was on the way. Five weeks later, Maractite Bomb washed ashore on a Wednesday afternoon, ending a yearlong drought at the Cove.
As usual, players scrambled to acquire Dubloons in hopes of catching an elusive Cove item. Players lucky enough to grab one of the first Maractite Bombs were then met with an ugly surprise - an uncharacteristically bad Cove weapon.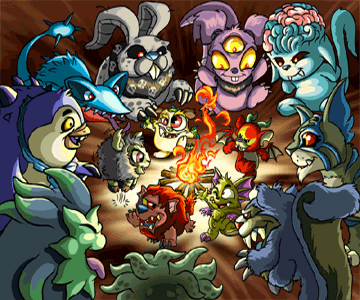 Pictured: The average Neopets player camping out for a Cove item.
It is not known whether the initial stats for Maractite Bomb were by design or the result of a glitch. Early testers were upset to find that Maractite Bomb dealt a measly 2 to 5 Physical icons. By the late evening, Maractite Bomb had been upgraded to deal 9 Physical icons. Experienced players did not appear too fazed by Maractite Bomb's initial stats; it is not uncommon for a new major weapon's stats to be misconstrued. However, the initial upgrade was worrisome. Although a first upgrade was both probable and normal, a second upgrade was no guarantee. At 9 Physical icons, Maractite Bomb was underwhelming, especially given its once per battle limitation.
In the early morning hours the next day, Maractite Bomb finally became the weapon the Battledome community expected. The second upgrade boosted Maractite Bomb's stats to match the strength of the beloved Ghostkerbomb. The price of the new Cove item soared in response but would gradually decline as more appeared on the Trading Post.
The Maractite Bomb boasts exceptional power, but great power combined with sparse supply leads to questionable price. In-depth reviews of Maractite Bomb (including my own) can be found on its weapon profile.
Editorial - News at Last
Since the Battledome went into an open beta phase in November 2012, the community has heard little regarding fixes and updates. As the two year anniversary of the Betadome approaches, players are finally aware of where the Betadome stands. Unfortunately, the tidbits of news given this year leave little room for hope. Still, simply receiving word of the Betadome status is a step above the previous year.
The January 10th editorial broke an over six month silence in Battledome status updates. As had been the case previously, the answer did not offer any indication of when HP increase and other updates would be implemented. Finally, the June 27th editorial shed light on the status of the Battledome - it was not a considered a priority. Battledome updates were not on the schedule. Two weeks later, the Neopets Team elaborated on the June 27th question while also stating that the old Battledome would not make a return.
Although the Neopets Team made a big step in transparency in announcing where the Betadome stood, frustration in the Battledome community mounted as the realization that no updates were in the works set in.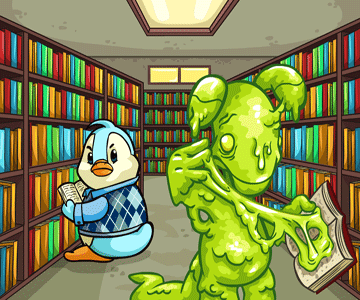 Now several months removed from the grim news, there are several reasons for hope. In the editorial, it was stated that "games and dailies, mobile, and small new events" were the most requested features. Since then, we have seen reskins of Petpet Park games such as Pakiko, a new daily in Kiko Pop, and a small event in Desert Diplomacy. A mobile version of the site is obviously a much larger project, but requests for the other features have all been granted recently.
In addition, the news announced that the site was nearly ready to make a major step in the JumpStart acquisition - the transfer of code, databases, and server infrastructure. With the completion of this transfer combined with recently completed features, it is possible that programming power will be freed up for Betadome repairs. As months have turned into years, the near-completion of the JumpStart ownership move may just be the best news in ages for the Battledome community.
Update 9/16/14 Early in the morning on September 16th, it was discovered that the challenge glitch had been fixed. It was not immediately certain whether or not the fix was a byproduct of the server move. Players were also unsure of whether or not the fix was a reset or a permanent solution. Luckily, several battlers received ticket responses in the afternoon that day confirming that the fix was unrelated to the move as well as a permanent fix to the issue. The user Drazu was kind enough to provide iDB with the following screenshot. The challenge glitch repair is the first major update to the Betadome in 2014.
NC Cake Slices - A Controversial Dessert
During the month of July, the NC Mall celebrated its 7th birthday. As part of the celebration, the NC Mall released three special cakes that players could claim for free on their accounts. These three cakes were food items, but they also granted stats when consumed. The cakes granted 5 HP, 3 Movement, and 2 Strength points respectively. All three cakes were classified as Neocash items, and therefore were tradable as such.
Upon realization that the cakes were traded as Neocash items, players reacted in various ways. Some players scrambled to collect and use the cakes on all of their side accounts, as collecting NC Mall freebies is technically allowed on all accounts. Neocash consumers attempted to trade other Neocash items to players in exchange for their free cake, essentially paying for stat boosts. Many players condemned the actions of others, and a fair share of arguments arose over the ethical use of the free cakes.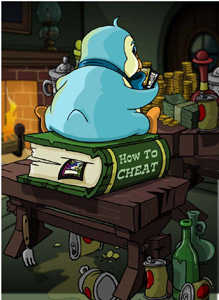 On one side, players argued that Neocash boosts do essentially exist already. Players have been able to purchase Faerie Quest and Lab Ray fortune cookies from the NC Mall for some time. Unlike the cakes, effects of these items are completely random. Additionally, a limit on the daily use of these items exists, whereas an unlimited number of cakes could be consumed in a single day. Players on the other side of the argument believed that trading Neocash items for the cakes was a direct form of purchasing pet stat boosts with real life money. (Friendly Reminder: Attempting to trade a Neocash item, including cakes, for Neopoints or Neopoint items is against the Neopets terms of service.)
Fortunately, the controversy was quelled with a pair of TNT editorial responses. First, it was stated that pets should not be transferred around to side accounts to benefit from free cakes, and doing such was considered side account abuse. Second, the Neopets Team admitted that the cakes tradability was a mistake. All three of the free cakes were intended to be flagged as no-trade items, which would have completely averted the controversy. Had the cakes been no-trade, the cakes would have been Neocash items only by label; in reality they would have functioned like any no-trade Neopoint item. Given that TNT admitted this error, we can feel confident that this issue won't happen again should a similar freebie be offered.
2-Player Tournaments Update
For League 97 and iDB, 2014 has been a big year. The Guild Cup, the largest tournament in L97 history took place in April and drew 80 participants and ten registered guilds. The in-Depth Battlepedia has also held three more L97 tournaments as well as its first ever non-L97 tournament in the past nine months. A summary of the year in League 97 thus far is on its way, serving as a primer for a potential championship event.
We at the Battlepedia don't necessarily believe that all good things must come to an end, but it is time that we slow things down a bit. As of now, no official iDB tournaments are scheduled. Participation dwindled during the summer events. The reduced turnout can be attributed to both the frequency of tournaments and the status of the Betadome. We have furiously operated tournaments for the better part of this calendar year and paired with the clumsy pace of the new Battledome many battlers have been left exhausted. Glitches have continued to make otherwise routine battles into ordeals. It's time that we take a break.
In October, I will conduct an interest survey on the Battledome Chat for a potential 2014 championship for League 97. It would be a shame to not cap off a long season with a championship event, but we want to ensure there is proper interest before assembling such an event. The in-Depth Battlepedia would be thrilled to operate frequent events in a more balanced and functional Battledome, but in the meantime we will now begin to more carefully scout out interest before scheduling events.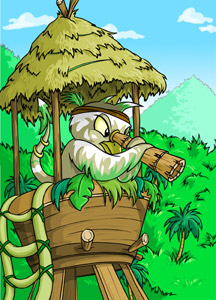 Miscellaneous Weapon Releases
With a full nine months to look back on, let's attempt to summarize the less notable weapon releases of 2014. Given that only a handful of weapons have been released this year, we can fly through these pretty briefly.
Wearable Weapons
In July, the first wearable weapons were released in the Altador Cup prize shop. Ever since wearables came into existence, battlers have hoped that select weapons would have a wearable option. We currently have no indication that any existing weapons will be made into wearables, but new wearable weapons seem to be slowly entering the market. In what may be a new trend, Desert Diplomacy became the second consecutive site event to award a wearable weapon, the Staff of the Bewed. Battle equipment designated as wearable can either be placed in the user's closet or equipped to a pet. A user would need two copies of a wearable weapon in order to both use it and display it in battle. Such a desire is unlikely at the moment as the first few wearable weapons offer lackluster power. For the time being, all wearable weapons are best placed in the closet.
Oasis Tonic
Desert Diplomacy also awarded Oasis Tonic, a new lower-tier healer. This new healer provides a once per battle 35 HP heal, helping to bridge the gap between Lesser Healing Scroll and Greater Healing Scroll. Should we witness another 1-Player battling event, Oasis Tonic should help to combat excessive inflation of lower-tier healers.
Shop Releases
As time passes, new item releases in the standard Neopian shops have become sparser. Battledome equipment is no exception; only five releases and ten new weapons have hit the restock shops in 2014. Maractite Weapons were added in January, Brightvale Potions in February, and Faerie Weapons were added in March before a long gap in releases. Wonderous weapons were added in June and Brightvale Armours were added in August. Some of these weapons could serve as fringe options in L97, but none of these ten weapons are too eye-catching. It has been a slow year for weapon testers.
Hidden Tower and Smugglers' Cove
Maractite Bomb broke a drought a few days short of a year at the Smugglers' Cove. Another Smugglers Cove Pirate Plushie hit the shores on September 19th last year, and the last weapon release would have been The Death Knell on August 31st that year. Two weapons were also released at the Cove in 2012.
The Hidden Tower has not seen any releases this year. Fan of Swords was the most recent release back on August 16th, 2013. Ilere Faerie Doll and Dr. Sloths Personal Bath Buddy were also added in 2013. Five Hidden Tower items were released in 2012.
We just received Maractite Bomb, but if recent history is any indication, we are still overdue for major weapon releases. With three months left in 2014, we may just see some more high-end weaponry.
This article was written by: Penguinqwert