In-Depth Battlepedia's Dome Decennial
Intro
On October 17, 2012, the Old Battledome was officially laid to rest to clear the way for a new Battledome. A week later, the New Battledome opened its doors to a few small groups of closed beta testers. Shortly after, on November 9th, the closed beta opened its doors to the rest of Neopia; this is the Battledome as we know it today.
Since then, we started fighting over a strange obelisk in Tyrannia, and we foiled the Darkest Faerie's dreams of a Wraith Resurgence. We found new ways to challenge ourselves by creating many new two-player battling leagues to replace the old ones, from L97 to L54, to Fyora League and many more. We blinded our opponents with Lens Flares, except for when they used it on us... and while it definitely didn't feel very fair when that happened, we toughed it out anyway.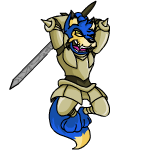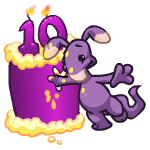 Hey, I wanted to cut the cake!
Now, here we are, ten years after the Old Battledome gave way to the New. We've had our ups and our many downs, but we're all still here, so let's celebrate the past ten years!
Challenges
Check here each day of the event to see which challengers you'll be facing:
Rules
When: From November 10, 2022 to December 1, 2022.
Battles: You will have a total of 21 daily challenges of one or more opponents. You may battle in as many or as few as you wish.
Scoring: You will earn points for each daily challenger you beat. We will be watching your battles on your public Battle Record on Neopets. Each challenger awards points based on the following formula:
points = % of your Neopet's HP remaining when you win + challenger difficulty
You can find your scores for a specific challenger by checking your Battledome Records page and clicking on that challenger's name or picture.



Click on the circled area to expand or collapse the table row for that challenger.

Pet Requirements: Any Neopet you've trained and equipped to fight in the Battledome is eligible!
2-Player Battles (optional): We have a Battle Board on the Battledome Chat. Find it, choose another Neopian to battle against, and post your results on our Results Board to earn bonus points!
Depending on how well you do during the event, you'll be able to earn one of these exclusive trophies for your jnAccount trophy cabinet:
Signup Info
Sign ups are now closed! Our event begins on November 10th!
Signups will be open until November 9th, 2022. All you need is a battle-ready Neopet and a jnAccount. If you don't have a jnAccount, you can register for one here. You may sign up with the form below:
Participant List
Want to verify your registration? Check out our list of participating jnAccounts by clicking the button below. If you see your jnAccount username, you're good to go!