Beginners' Guide to Battling
Since you've found your way here, you must want to learn about the Neopets Battledome!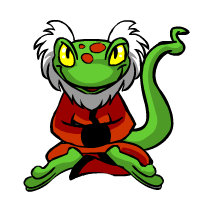 Together, let us explore the martial arts!
The Battledome allows you to send your Neopet into battle, against other people's pets (two-player battling) or against a variety of one-player challengers controlled by the computer. You can find the Battledome here, open 24 hours a day for whenever you want a match.
Whether you're battling to win a trophy, as part of a big site event, or just for fun with your friends, the basic rules are the same. Your pet can go into battle with up to eight equipped items (weapons, shields, potions...), and every turn, you can choose two for him or her to use. At the same time, you can choose an ability to help you do damage or protect your pet. Meanwhile, your opponent will be making the exact same decisions, so your two pets can attack each other simultaneously.
Successfully attacking your opponent's pet will cause his or her Hit Points (HP) to drop. Whichever pet reaches zero HP first loses the battle.
In the rest of this guide, you will be taught the basics of the Battledome. From attack and defence to healing and reflection, we've got all the key vocabulary and concepts that will help get your pets' fighting career off to a great start.
This article was written by: In-Depth Battlepedia