The Smuggler's Cove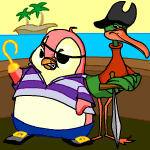 Ahoy, ye landlubbers! If ye be seeking to buy treasure and weapons, then the Smuggler's Cove be the perfect place to do so! Here, some of the strongest and weirdest battledome weapons have been sold.
Just like almost every other place on Krawk Island, the Cove only lets people buy its stock with Dubloons. That means all of the millions and billions of Neopoints you've saved up just for that Super Attack Pea are all useless when it comes to purchasing the Cove's wares (but if you have that many Neopoints, you would probably be better off buying your dream items from other users, anyway). Almost all of the good items sold there cost between one hundred and six hundred Dubloons, though, so be wary of refreshing too often if you have that amount of Dubloons in your inventory, as the Pant Devil is never far away!
For more information visit our Complete Smuggler's Cove guide!
Cove Items
&nbsp
Name
Attack
Defense
Other
Rating [?]
9 Pound Coconut

Multiuse

Alien Aisha Ray Gun

Multiuse

+
Alien Aisha Sceptre

Multiuse

Weak Attack

Strong Attack

Effects
8 or 16 HP
Alien Aisha Scrambler

Multiuse

100%, 100%.
Ancient Hourglass

Semi-Fragile

Effects
Unknown% Chance
Artichoke Bomb

Once per Battle

+
Attack Meatball

Multiuse

+
Attack Pea

Multiuse

Aubergine Mace

Multiuse

+
Banana Sword

Multiuse

+
Battle Plunger

Multiuse

+
100%
Effects
Drains 1-20 HP from opponent (Non-heal).
Ranged/Priority Weapon.
Bottle Of Magic Sand

Multiuse

+
Cabbage of Mystery

Unknown

Looks like this weapon hasn't been tested yet, or is currently missing information!
Cake Bomb

Once per Battle

+
Candy Club

Multiuse

+
Chia Leaping Boots

Multiuse

Cursed Ink Pot

Multiuse

+
Earwax Chia

Multiuse

Against Non-Chias:
+

Against Chias:
+
Face Mace

Multiuse

+
Fierce Wooden Leg

Multiuse

+
Frozen Cyodrake Shield

Multiuse


100%
Fungus Chucks

Multiuse

+ []
Effects
+ 3 HP or takes away 3 HP
Golden Pirate Amulet

Multiuse

100%
Effects
Drains 1-30hp from opponent (non-heal)
Grapes of Wrath

Multiuse

Hammer of DEATH

Multiuse

+ [] [] []