Latest Battlepedia News
Neopets Community Survey
Posted by
Herdy
on November 28, 2023, 6:14 am NST
This morning, TNT have begun to send out a marketing email containing a community survey about demographics and the content and merch you would like to see in the future. For participating, you are entered into a drawing to win 1,000 NC!
There will be 10 winners, and the survey will remain open from today until December 12th.
Happy Thanksgiving!
Posted by
Dave
on November 23, 2023, 12:00 am NST
If you're in the USA, all of us at Jellyneo hope that you have a happy, healthy, and safe Thanksgiving!
Happy Halloween!
Posted by
Dave
on October 31, 2023, 12:00 am NST
From all of us at Jellyneo...
---
Costume Contest Winners!
The winners of this year's
Costume Contest
are now live! Congratulations goes to
zelda2727
for their Aisha
Miyazaki
dressed as
Hayao Miyazaki working on new ideas for the next Studio Ghibli film
! Make sure to check out all of the winners below, along with the prizes awarded to all those who entered and voted! (Trophies will be awarded later today.)
---
Site Theme Alert!
On October 31st at 11:59:00pm through 11:59:59pm NST (only a minute!), refreshing anywhere on the Neopets site will get you the elusive
Haunted Woods site theme
. This is the only time of year you can obtain it, so don't forget to stay up! This should be available on any Classic site page and redesign page, but if you want to be safe, the homepage is confirmed to award it.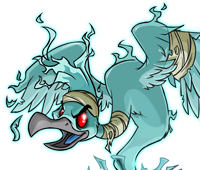 ---
Haunted Mansion Reminder
You have until the end of TODAY, October 31st to activate your Crystal Balls for the
Haunted Mansion
Neocash prizes.
---
Trick-or-Treating Reminder
Don't forget to go
trick-or-treating
around Neopia. You have the opportunity to pick up some free goodie bags until October 31st at 11:59 PM NST. (This year, trick-or-treating was available from October 24th through the 31st!)
---
Visit Count Von Roo
To celebrate,
Count Von Roo is awake
all day long on October 31st, allowing Neopets to play Deadly Dice with him. If you'd like to gamble for a few levels, go for a visit!



Fancy These Faerie Festival Weapon Prizes!
Posted by
macosten
on October 18, 2023, 6:13 am NST
The Faerie Festival is over (despite the Festival's FAQ saying it wouldn't end until tomorrow), and we finally know what the weapons we were teased about at the start do! Some of us who were expecting super-strong weapons for single-player battles will be disappointed, but those of us battling in 2-player L54 battles may be able to appreciate what these can do:



The weapons are supposedly awarded for 'participating in the Festival every day', but some people are reporting not getting their weapon despite doing this. It is unclear if this is glitched or not, but you may want to consider holding off on claiming your prizes until this is fixed or confirmed to be working correctly.


If you're still pondering your prize shop prizes, or you're just already deeply nostalgic for all the Faerie Fun we just had, feel free to check out our Faerie Festival guide:


New battledome prize proves that not much is louder than thunder.
Posted by
SirCabbage
on July 8, 2023, 2:49 pm NST
After another year of ceaseless play- the prize shop for the Altador Cup is now open once again. Following up after the phenomenal Thunder Sticks last year is another item that claims to be noisy.
While I doubt this item will make the same noise as last year, it is always good to see TNT give the battledome a nod. Tell us what you think of this new air blocking prize? Will you be picking one up or sticking to the other shop items?
Claim yours
here
today, before checking out
our guide
for more information on the other choices within the store this year.