Latest Battlepedia News
Happy Sloth Day!
Posted by
Dave
on January 14, 2022, 9:35 am NST
From all of us at Jellyneo...
Enjoy the Sloth themes around our site!
---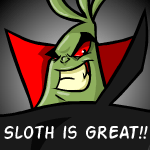 Don't Forget:
The
Mind Control Lab
on Neopets is only available today, January 14th. Make sure you take your loyalty test, as this is your only opportunity for the year to prove that you
truly
love Dr. Frank Sloth.
Happy New Year!
Posted by
Dave
on December 31, 2021, 8:59 pm NST
From all of us at Jellyneo:
TNT expresses their guilt over the lack of weapons in the Advent Calendar!
Posted by
SirCabbage
on December 5, 2021, 12:12 pm NST
Today's item represents the first of hopefully multiple weapons added to the Advent Calendar. Last year was a little light on when it comes to weapons, so hopefully this is the first of multiple!
Today's weapon has already been tested as you can see below; and even has a unique ability! "Self Damage Icons"- which can be reflected if you have the ability.
It is nice to see them trying to make something new and different, but you can only get one today so don't wait! Be sure to head on down to the
Advent Calendar
today to pick one up; alternatively check out
our guide
for more information on other prizes released this year.
Unobtainable weapons made technically obtainable again!
Posted by
SirCabbage
on October 15, 2021, 11:11 pm NST
The "No-Trade" tag has been removed from the Legends & Letters prizes; including the weapons. Items like The Scimitar of Lyra and Mystical Bomb are now available to be obtained again for the first time since the retirement of the application. Supply of these items will likely be limited due to the nature of their restricted release. Be careful not to get scammed if you attempt to pick these items up before these items get put up on sale.
Only one of the items is particularly impressive, but if you have any leftover Legendary Chests you may wish to roll the dice now these items tradable.
Besides these weapons, the Revive Potion and Mystical Health Potion stat increase items are now also tradable, given that these are stat increasing items I would expect them to have an even more constricted supply.
Check out more of these newly obtainable items within our
item database.
; or check out our recent
blackout page
; - because it is important.
Neopets team takes "I'll wipe the floor with you" to a whole new literal level in the Altador Cup Prize Shop
Posted by
SirCabbage
on July 8, 2021, 1:26 am NST
In a level of literal humor I can respect- TNT has released another brand new Battledome item that will really let you wipe the floor with your opponents.
This new cleaning battle implement may be purchased for 6000 prize points, and is the only weapon available in the prize shop. Given that this item is significantly more expensive than the torch we saw from the cup a couple of years ago, will this new weapon be any good? Check back with us for more information once testing concludes.
If you want to embrace your inner cleaner and pick up a new weapon; check out the
Altador Prize Shop
and buy yours today! While you are here, don't forget to check out Jellyneo's Altador Cup 16 coverage right
here,
for all your up to date news on the cup and all other related releases.
Unfortunately this year's staff prize shop does not contain any additional Battledome prizes, but there is a new HP granting Birthday Cake in the
NC Mall
for a limited time awarding 4 free HP. So make up for your staff shop woes with a sugar high!