Latest Battlepedia News
macOS Safari 14 Rolls Out
Posted by
Dave
on September 17, 2020, 9:21 am NST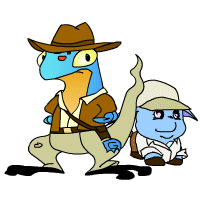 Just a quick warning for any of those who use the Safari web browser on macOS devices: Safari 14 is beginning to roll out as a system update. This new version of Safari completely removes support for Adobe Flash, meaning any Flash features on Neopets.com (or any other website!) will no longer function at all in Safari.
To continue using Flash features, such as world maps, games, or the customisation system, you will need to switch to another browser. (We recommend Firefox for its recent memory/speed enhancements and commitment to privacy.)
This only applies to macOS devices. iOS and iPadOS devices have never officially supported Flash.
For more information on the end of Flash, and how you can still re-enable Flash in other browsers, see our:
Ooh, shiny!
Posted by
macosten
on September 4, 2020, 6:50 pm NST
If you haven't been paying close attention, you may have missed that a new generation of Neopets merchandise has begun to hit the market. Among the first in this cohort is a series of four jewelry items - three silver necklaces and one silver bead.

If you purchase one of these items, you'll get the corresponding Platinum Shield for your jewelry piece as your Rare Item Code prize:





NeoCreation Week Day 4
Posted by
Herdy
on August 27, 2020, 10:36 am NST
NeoCreation Week
continues on the
Neopets Twitter Page!
Today's theme is Battledome Items!
Remember that to enter, you must include #MyNeoBattle
AND
#NeoCreation20 in your tweet by September 4th.
Happy 16th Birthday, Jellyneo!
Posted by
Dave
on August 22, 2020, 7:27 am NST
On August 22nd, 16 years ago, Jellyneo was born! And we've been very happy to be bringing you the latest Neopets news and help ever since. You can stop by Jellyneo any time to peruse a
complete Item Database
; visit the only destination on the 'net for
Neopian history and lore
; find a place to
try on any wearable
; reference the premier
guide to the Battledome
; search a unique, categorized listing of
over 137,000 Neopets images
; not to mention read a massive repository of guides and articles for
any Neopets feature you can probably think of
. And all of it is done to help you, our fellow Neopians.
To celebrate, we're excited to announce a few new features and enhancements we've been working on over the past month:
---
Magma Pool Time Checklist
Haven't tracked down your 10 minute
Magma Pool
time slot? We've got a
new tool
to help! Simply log in to your jnAccount (or sign up), and visit our new tool below to start checking off your time slots. Our tool goes minute-by-minute to help you narrow down your possibilities, and it even helps by automatically checking off some time slots that are impossible based off of the other times you've already checked.
You can find this tool in the future by visiting your
jnAccount service list
, or by visiting our
Magma Pool guide
.
---
Price Checker Tools: Negg Point Values
We've also updated all of our
Price Checker Tools
to include Negg Point trade-in values for any Negg that you can
trade in with Kari
. Hopefully this will help you figure out if you should trade-in or sell any Neggs you have laying around!
---
The Cyodrake's Gaze: Remastered
Continuing onward in our quest to preserve old Neopets storylines, we are excited to announce the next event series that we've remastered: The Cyodrake's Gaze!
Meet Captain Tuan and the crew members of the
Cyodrake's Gaze
after they've made port in Krawk Island's harbor—except for their navigator, who's gone missing after a late night storm.
As always, for more information on Flash retiring (and how to re-enable it in your web browser), see our
End of Flash Support
guide.
---
And that's it for our birthday update
!
Enjoy some cake, and here's to another 16 years of Neopets help!
Neopets: Island Builders Android Update
Posted by
Herdy
on August 15, 2020, 1:19 pm NST
Today has brought another update for Android users of Island Builders (iOS users remain on the old version in Closed Beta). This update largely fixes errors introduced in the previous one. You can now once more feed your pets.
This latest update has also decreased the amount by which Happiness will naturally decay over time.
The patch notes also mention
'Removed style happiness as a factor in pets' ability to gather'
, though it is unclear what exactly this means at this stage as pets do not appear to have different Happiness gauges for different attributes.
Additionally, just before this patch a new battledome item has been discovered, awarded for completing the Crystal Plateau quests:

A similar item has been discovered for completing the Mystic Jungle quests:

However, at present these items are
not
retroactively awarded, so if you already progressed past this point in the game you cannot currently claim them. It is unknown if this will change.