Latest Battlepedia News
macOS Safari 14 Rolls Out
Posted by
Dave
on September 17, 2020, 9:21 am NST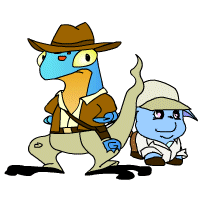 Just a quick warning for any of those who use the Safari web browser on macOS devices: Safari 14 is beginning to roll out as a system update. This new version of Safari completely removes support for Adobe Flash, meaning any Flash features on Neopets.com (or any other website!) will no longer function at all in Safari.
To continue using Flash features, such as world maps, games, or the customisation system, you will need to switch to another browser. (We recommend Firefox for its recent memory/speed enhancements and commitment to privacy.)
This only applies to macOS devices. iOS and iPadOS devices have never officially supported Flash.
For more information on the end of Flash, and how you can still re-enable Flash in other browsers, see our:
There are 8 comments below. Add yours!
---
biediep
, September 17, 2020 10:11 AM NST
Is Neo down entirely, now?
I've tried three browsers but I keep getting an 504 Gateway error.
Yes, it's completely off line as of a few minutes ago.
Error 543 The origin web server is not available.

Looks like their servers have crashed.
I use Puffin for all my mobile flash needs, but I can't remember if there's a Puffin for desktop.
spabl
, September 17, 2020 10:22 AM NST
504 Gateway Time-out
I got the Safari update notification pushed to me today but I haven't updated yet. No idea if I'll be able to manually hold it off at all cos my Mac usually updates automatically.

Guess I'll have to use Chrome or something for any other flash games or flash-based dailies. Or just stop doing those altogether.
Thank goodness I stopped doing 2P temporarily because if I was in a tournament and had to do a match on my iPad on Safari, this would suck.
Speaking of that, I feel bad for those who have to use Safari for that.
I recommend more Brave Browser, much quicker and available on all apples device.
Add Your Comment
Want to add your thoughts? You just need to log into your jnAccount!