Latest Battlepedia News
(Re)Introducing Our Top Pets List!
Posted by
macosten
on April 16, 2021, 9:37 am NST
Attention all battlers!
After a few years of hiatus, I'm pleased to announce the official return of regular updates to our
Top 250 Pets List
! As before, our list is calculated using "HSD", a combination of your Neopets' health, strength, and defence points. (With caps of 750 on both strength and defence to match the Battledome's boost caps.)
Every pet on our Top 250 List is eligible for
a self-updating Top Pet Trophy
to place on their lookup and remind anybody brave enough to visit about their position atop the battlers of Neopia. Currently, a pet with about
2,500 HP
2800 HP and at least 750 Strength and Defence will be strong enough to find themselves on our list; how does your Neopet stack up?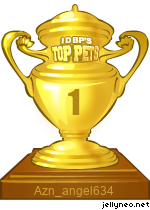 Does your pet make the cut?
If you notice a Neopet missing from our list, even if it's not your pet, please
let us know with a report
so we can give them the recognition they deserve.
Finally, congratulations to all of the Neopets on our list and their owners on their achievements! It's not always easy, but I believe this will make the struggle a bit more fun.
It's beginning to look a lot like Neggmas!
Posted by
SirCabbage
on April 5, 2021, 2:14 pm NST
It's beginning to look a lot like Neggmas- and amazingly we continue to see incredibly drawn item additions for this event. Only one prize this year has been identified as a battledome item, but it looks incredible. Introducing - The Void Blade.
Right now this item LOOKS fantastic, and while test results are still incoming I must say it is refreshing to see the team start to make some really well-designed item images.
If you would like to pick up these and other amazing Neggtastic items, please remember to participate in the best event of the Neopian calendar- come one all, come all to the
Festival of Neggs
. Take note of the fact the first thing you must find is Topsi- who may be found in the
Rainbow Fountain
. Remember to participate throughout for your chance at the Void Blade and perhaps other battledome items as bonus prizes.
If you need to know exactly what perfect negg related item awaits you inside- or help finding these gems, you may also wish to check out
our guide
for more information on negg locations and prizes!
Ho Ho Ho- or No No No? First battledome item released to the Advent Calendar!
Posted by
SirCabbage
on December 5, 2020, 12:26 am NST
TNT is starting the holiday season off with a bang with our first of hopefully multiple Battledome weapons! Introducing the Festive Cutlass!
Testing has already revealed that despite unfair media bias and slander against it- there ARE some things worse than a Stocking Full of Coal! Nevertheless, if you want to pick up one of these weapons you only have today to do it! So get yourself down to the
Advent Calendar
and grab yours today!
Additionally, don't forget to check out Jellyneo's
Advent Calendar guide
for all the juicy news about other fun items released throughout the month!
New Rare Item Code Weapons: Revealed!
Posted by
macosten
on November 23, 2020, 6:14 pm NST
With the newest round of Neopets merchandise making the rounds on Earth, there's a new round of Rare Item Code prizes making the rounds on Neopia. Among them are a new generation of Rare Item Code weapons! See for yourself:




Announcing L54: Fall Together!
Posted by
macosten
on October 7, 2020, 9:24 am NST
Autumn has arrived, and that means it's time for another L54 event (and our first-ever L54 tag team event):
Fall Together!
If you've ever thought about getting involved in 2-player battling, now is as good of a time as any to get started! Feel free to check out our
L54 Homepage
or head on over to the

Battledome Chat
on the Neoboards to get acquainted with the rules (and maybe get a few practice battles in).
Signups will be open from now until the 28th of October. Will you climb to the top of the leaf pile, or will you fall-ter under the pressure?