Battledome Tournaments
One important aspect of the Battledome has always been that of user made tournaments. User made tournaments can be anything from PvE yearly tournaments all the way through to once off Guild on Guild PvP grudge matches. This article aims to highlight battledome events and give some basic information on each one. If you know of or host a yearly event which is not mentioned in this article feel free to Submit it to be added to this list.

General Tournaments
These kinds of Tournaments are not yearly or set in stone, but still warrant an important mention due to being an integral part of the battledome experience.
General Tournaments
| | | | | | | |
| --- | --- | --- | --- | --- | --- | --- |
| Type | Hosts | Format | Fight | Description | Last Held | Petpage |
| Plot Events | Various | Most Wins | PvE | These events are hosted by various sources and are simply battledome events to coincide with a plot of battling event. Historically, most plots with battledome have also had a Guild v Guild Competition to work out which guild can gain the most wins against the limited time opponents found during Plots. | During the Faeries' Ruin | N/A |
| Guild Challenges | Various | Knockout or Most Wins | PvP | Sometimes one guild wishes to challenge another to find out who is on top. These events are Guild on Guild PvP events and can either be based on a knockout system, or a most killed system. Any guild may challenge any other guild and it is up to the leaders to accept or reject the invitation. | N/A | N/A |
Yearly Tournaments
Yearly Tournaments are events hosted by guilds on a regular basis. The rules and opponents are set up by the hosts directly and other guilds/users in those guilds must sign up to join so their wins can be recorded for the scores. Often these tournaments give trophies and are a good indication of how one guild is in comparison to the others.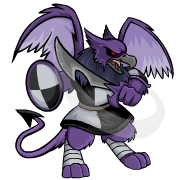 Yearly Tournaments are great ways to prove yourself
Yearly Tournaments
| | | | | | | |
| --- | --- | --- | --- | --- | --- | --- |
| Type | Hosts | Format | Fight | Description | Last Held | Petpage |
| Summer Scrimmage | Phoenix Warlords | Rounds | PvE | The Summer Scrimmage is a yearly 1P PvE event hosted by Phoenix Warlords in which guilds compete to have the highest number of wins against One Player Challenges. The event is split into rounds, each with a set of competitors. These competitors have minimum win numbers based on the users' league. Once these numbers are met, all previous wins from before the tournament count for points. This works to encourage players to better themselves so as to not disregard old wins. | July 2012, After Altador Cup | [Link] |
| λriiam Empire | Various | Bracket | PvP | The Ariiam Invitational is a yearly 2P PvP event hosted by λriiam Empire in which users fight other players from their League in a bracket system. This event traditionally rings in the new year with this battling blowout. Invites are open to certain guilds which are mentioned when signups begin. Rules of 2P combat can be found also on petpages, and breaking these rules means immediate disqualification. | January 2012, Ringing in the New Year | [Link] |
This article was written by: SirCabbage