2-Player Battling Rules
General Rules

When participating in 2-player battles, some people like to set rules to make the battling more balanced and fair. Although these rules do not necessarily apply to all 2-player events, they are fairly common. The Battledome itself does not have rules (Aside from exploiting glitches).
Please note that the following is a list of all rules that can be used to put together these events but these events do not always use all of these rules, if any.
No weapons that causes pet to change
No weapons to cause petpets to change
No weapons that eliminates opponent's weapons permanently
No weapons that causes illness
No weapons that can alter an opponents stats
No double burrow/sinking
No multiple-healers (League 8 or under)
No stealing
No 1-use items
No Freezing
Fights must be in English
Pets must enter a battle with their exact max HP
Rule Defined Tournaments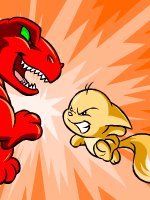 Some rules are more specific and even define some tournaments. Events like 500k Set Cap Tournament states that all participants may only use a set of weapons whose total value equals no more than 500000NP.
Other events such as Low League Tournaments restrict the amount of stat points a Neopet can have. Using the League Calculator, pets can be put into specific stat leagues. This rule enables all participants to fight on the same stat level. Low League Tournaments exclude the element of stat training which can be time consuming and expensive.
This article was written by: In-Depth Battlepedia