Closed Battledome Beta
The closed Battledome Beta has been on the tip of almost all battlers tongues. As of October 26, 2012, only a select handful of people have been granted access to test the new Battledome. If you have not had a chance to check it out yet, read on! Below is a quick video walk through of the beta. (I apologize for the static, my microphone refused to cooperate.)
Changes
There are many notable changes in this beta version of the Battledome. Be aware that everything is subject to change. This is still a beta. TNT has also been encouraging testers to post their feedback on the special Closed Beta Neoboard.
User Interface:
The most notable change to the battledome is the new user interface. There is a lot of information displayed in the battling window. Below is an image taken from neopets battledome tutorial.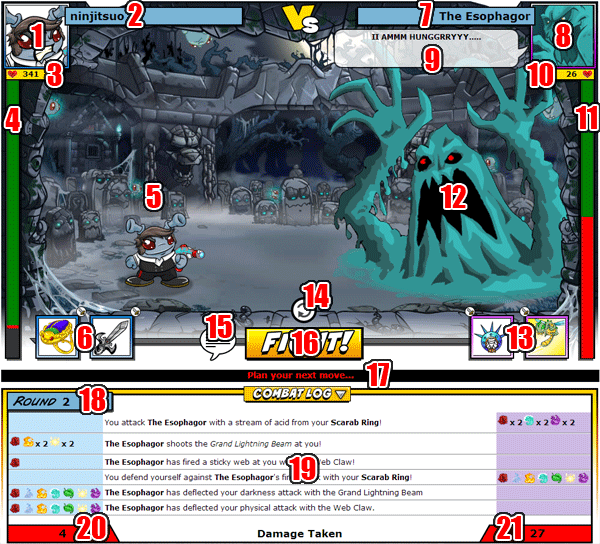 Your Neopet's portrait
Your Neopet's name
Your Neopet's remaining Hit Points
Your Neopet's health bar - the full bar represents the total health; green is the health remaining while red is the damage taken last round
Your Neopet
Your Neopet's equipment
Your opponent's name
Your opponent's portrait
Your opponent's chat - if you send a chat message, your Neopet will also have this bubble on its side of the screen!
Your opponent's remaining Hit Points
Your opponent's health bar - the full bar represents the total health; green is the health remaining while red is the damage taken last round
Your opponent
Your opponent's equipmentv
Replay/Skip button
Chat toggle
Fight button - press this after you've planned your move to send it and see what happens!
Status bar - this tells you what to do next
Round indicator
Combat log - a more precise log of what occurred this round, for battlers who want more detail
Damage your Neopet took this round
Damage your opponent took this round (i.e. the damage you did!)
End Battle Healing:
In the old Battledome, whenever a battle was over your Neopets would be healed to full health if you had won the battle. This is not the case any more. Your Neopet will not heal automatically any more. You will need to use healing potions or an alternative healing method after battling.
Rewards:
The Battledome will feature a new rewards system where when you emerge victorious from a battle, you will be rewarded with either items or Neopoints. In the current beta, the rewards range from 30 NP (on average difficulty) to 3500+ NP (difficult opponent, mighty difficulty). These ranges and rewards are going to change once the Battledome is released.
Challenger Difficulty:
In 1-player battles, challengers now have three difficulty settings. They are: Average, Strong and Mighty. These settings determine how difficult an opponent is. On average, a challenger's difficulty is equivalent to the displayed difficulty. On strong and mighty, an opponent's stat points are increased to make the battles more difficult. This feature has replaced an opponent's HP increasing with every win.

Faerie Abilities:
Faerie abilities are being revamped. As of now, this change is still under way but the old faerie abilities have been disabled. There are currently no abilities in the beta Battledome. At the bottom of the stats page there is a message that mentions "Aethia's Ability Academy", where you can learn abilities using your faerie blessings. This has not been activated yet.
Challengers
With the beta testing underway, seven new challengers have been released. Click on their image below to view their 1-player profiles.
New Domes
There are eight domes that can be selected to battle in. Each dome represents a different location within the world of Neopia. These domes are decorated to look like the different areas they represent. The eight domes are:

Beta Screenshots
Click on the images to view a bigger version of the image:
This article was written by: In-Depth Battlepedia