Latest Battlepedia News
Announcing L54: Fall Together!
Posted by
macosten
on October 7, 2020, 9:24 am NST
Autumn has arrived, and that means it's time for another L54 event (and our first-ever L54 tag team event):
Fall Together!
If you've ever thought about getting involved in 2-player battling, now is as good of a time as any to get started! Feel free to check out our
L54 Homepage
or head on over to the
Battledome Chat
on the Neoboards to get acquainted with the rules (and maybe get a few practice battles in).
Signups will be open from now until the 28th of October. Will you climb to the top of the leaf pile, or will you fall-ter under the pressure?
macOS Safari 14 Rolls Out
Posted by
Dave
on September 17, 2020, 9:21 am NST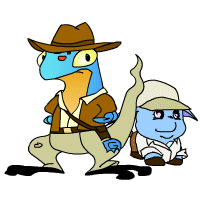 Just a quick warning for any of those who use the Safari web browser on macOS devices: Safari 14 is beginning to roll out as a system update. This new version of Safari completely removes support for Adobe Flash, meaning any Flash features on Neopets.com (or any other website!) will no longer function at all in Safari.
To continue using Flash features, such as world maps, games, or the customisation system, you will need to switch to another browser. (We recommend Firefox for its recent memory/speed enhancements and commitment to privacy.)
This only applies to macOS devices. iOS and iPadOS devices have never officially supported Flash.
For more information on the end of Flash, and how you can still re-enable Flash in other browsers, see our:
Ooh, shiny!
Posted by
macosten
on September 4, 2020, 6:50 pm NST
If you haven't been paying close attention, you may have missed that a new generation of Neopets merchandise has begun to hit the market. Among the first in this cohort is a series of four jewelry items - three silver necklaces and one silver bead.

If you purchase one of these items, you'll get the corresponding Platinum Shield for your jewelry piece as your Rare Item Code prize:





NeoCreation Week Day 4
Posted by
Herdy
on August 27, 2020, 10:36 am NST
NeoCreation Week
continues on the
Neopets Twitter Page!
Today's theme is Battledome Items!
Remember that to enter, you must include #MyNeoBattle
AND
#NeoCreation20 in your tweet by September 4th.
Neopets: Island Builders Android Update
Posted by
Herdy
on August 15, 2020, 1:19 pm NST
Today has brought another update for Android users of Island Builders (iOS users remain on the old version in Closed Beta). This update largely fixes errors introduced in the previous one. You can now once more feed your pets.
This latest update has also decreased the amount by which Happiness will naturally decay over time.
The patch notes also mention
'Removed style happiness as a factor in pets' ability to gather'
, though it is unclear what exactly this means at this stage as pets do not appear to have different Happiness gauges for different attributes.
Additionally, just before this patch a new battledome item has been discovered, awarded for completing the Crystal Plateau quests:

A similar item has been discovered for completing the Mystic Jungle quests:

However, at present these items are
not
retroactively awarded, so if you already progressed past this point in the game you cannot currently claim them. It is unknown if this will change.