Pet birthday stat increasers
Posted by
Kumar
on November 15, 2014, 5:19 am NST
Three new stat increasers have been released today by TNT. If it is the birthday of one of your pets, you can visit their pet lookup to redeem one of three new cupcakes. The items are No Trade, which means you cannot sell them or move them to other accounts.

Each flavor increases a different stat, with 5 points being added to that stat. Overall, they look like pretty sweet birthday presents for your pets.

Signups for League 97 Championship 2014 Now Open!
Posted by
Max
on November 1, 2014, 4:02 am NST
As Halloween passes by, we at iDB start sharpening our swords, preparing for this years L97 Championship! That's right, the time has come for us to put L97 battlers to the ultimate test and crown a champion for 2014.
This years championship event will closely resemble
last year's event
. Signups open today, November 1st! Battling will begin near the end of the month, affording you almost a whole month for any extra preparations you might need to make.
Our Tournament Page
is up and running. To sign up,
contact Penguinqwert
on Neopets or find his board in the Battledome Neoboards. Good luck!

New Trick-Or-Treat bag weapon!
Posted by
SirCabbage
on October 31, 2014, 12:33 am NST
One of the items given out in the new set of Halloween Trick-Or-Treat bags is a weapon! Stay tuned to find out more information as to how good it is and pick up your trick or treat bags using the links found
Here.
Even if this weapon does end up being trash, at least it would make a FINE Halloween decoration!

Happy Halloween!
Posted by
Dave
on October 31, 2014, 12:00 am NST
The JN Staff are celebrating this year with a new set of
costumes
. Can you guess who everyone is dressed up as? Share your own costumes in the comments below!
The winners for our
Eighth Annual Costume Contest
have also been released. (Trophies will be awarded midday on Halloween.)
Check Out the Winners »
Site Theme Alert!
Don't forget that today (October 31st) at 11:59pm NST, refreshing anywhere on the Neopets site will get you the elusive
Halloween site theme
. This is the only time of year you can obtain it, so don't forget to stay up! See our
site themes guide
for more info on obtaining other layout themes.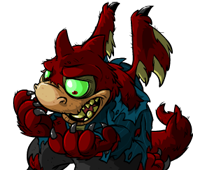 Spooky new weapons
Posted by
Kumar
on October 27, 2014, 4:20 pm NST
Another month, another couple of new weapons. Hopefully TNT activates these quicker than last months weapons, which are still MIA a month after being announced.