Happy 10th Birthday, Jellyneo!
Posted by
Dave
on August 22, 2014, 12:03 am NST
We're 10 years old today! Waaaayyyyy
back in 2004
, Jellyneo started as a rather small fansite with no game guides, a few unreleased news findings, and a couple of image viewers. We've grown a bit since then.
So far this year, we've served well over 800,000 visitors, across seven major departments that contain:
Our big birthday surprise this year was a
revamped Book of Ages
, but we have more to come. Over the next year, we'll be slowly but surely revamping the rest of Jellyneo to have one unified layout with the goal of making it easier to find everything Jellyneo has to offer.
Here are some previews of what's to come:
After 10 years of success, we want to thank
YOU
our trusty visitor who has come back day after day, month after month, and year after year to make use of the Neopian help we provide. Without your feedback, suggestions and ideas, we wouldn't be nearly as prolific and useful. (And even the bug reports! We love fixing things!)
So thanks for visiting, and here's to 10 more years of Jellyneo! :)

State of the Battledome - Guest Drazu Reviews Fyora League
Posted by
Max
on August 15, 2014, 5:50 pm NST
Ever since TNT has become hands off with the battledome we've seen few updates, consequently we've seen very few State of the Battledome articles because there have been no changes to discuss.
One of the strengths of the battledome community is that we are self driven. After the appearance of L97, we've seen many L97 contests amongst guilds and even the rise of newer leagues. The Fyora League is one of those leagues and we are lucky to have guest writer Drazu share his insight on the new Fyora League.
Check out
The New State of the Battledome Article
where Drazu goes in depth examining the Fyora League and even offers some strategies and tips!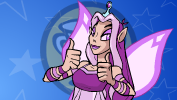 Fyora gives the league named after her 2 thumbs up!

New Brightvale Tunics
Posted by
Ian
on August 11, 2014, 3:23 pm NST
Wow, we haven't had anything new added to the Battledome for quite awhile. Hopefully these new tunics get activated soon.



Summer Scorcher II Begins.
Posted by
Max
on August 1, 2014, 1:22 am NST
Signups for our
Summer Scorcher II
have closed and the tournament bracket has been posted. Let the games begin! Best of luck to all the participants!
May the randomizer odds be ever in your favor.

Upcoming L97 Tournament and Trophies!
Posted by
Max
on July 25, 2014, 7:17 pm NST
Our second annual
Summer Scorcher
is about the begin in just under a weeks time! Make sure you check out the rules, contact Penguinqwert, and/or find the appropriate Neoboard. Here is a preview of the trophies for The Summer Scorcher II. Quite shiny.
We have many more trophies to hand out for the past 2 tournaments. Here are the
Altador Annihilator
trophies!
| | | | | |
| --- | --- | --- | --- | --- |
| | | | | |
| Vexatory | Toon_link_dancing | Pisha 1 | Dafinsrock | Participant |
Let's not forget the recently concluded
BD Chat Community Challenge
trophies.
League 5
| | | | |
| --- | --- | --- | --- |
| | | | |
| Toon_link_dancing | Vexatory | Thedarigandude | Baby_pavan |
League 9
| | | | |
| --- | --- | --- | --- |
| | | | |
| Ah_ken81 | Pisha1/Mike_honcho | Sideswipes | Dubs824 |
Max Boost
| | | | |
| --- | --- | --- | --- |
| | | | |
| Ah_ken81 | Pisha1 | Shumandy | Ruuff |